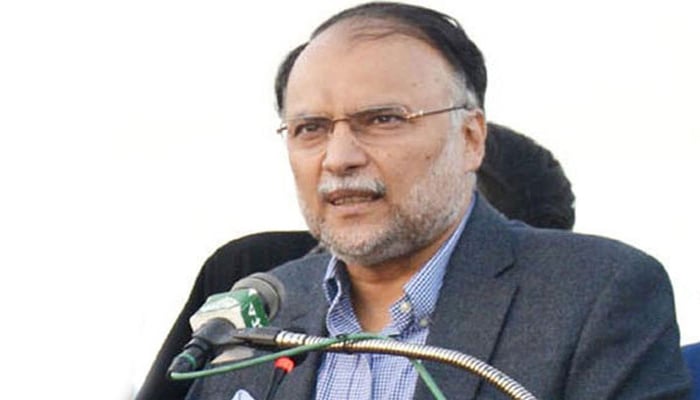 Federal Minister Ahsan Iqbal says that it has to be decided whether the constitution has the upper hand in the country or only a few sections.
Federal Minister Ahsan Iqbal has said this while addressing the ceremony in Karachi.
They say that they will find a way to rebuild the affected areas after the destruction due to rains, Sardar Ataullah Mengal made politics of principles and ideas.
Ahsan Iqbal said that the movement of Pakistan was through ballots and votes, which Ayub Khan diverted, if the economy is not strong, then Pakistan will not be strong.
He said that the cases of missing persons are a challenge for the state, the federal government wants to solve this problem of missing persons on a permanent basis, Balochistan's share of the development budget has been kept higher than that of Punjab.
Ahsan Iqbal says that Pakistan has been the most affected by climate change in the world, currently one-third of the country is affected by floods, people's property, livestock, crops have been destroyed.
He says that if the remaining two-thirds of Pakistan is determined, there is no need for anyone, wheat has been damaged due to floods, there is still plenty of wheat in the country.
The PML-N leader said that there is a problem of supply due to the damage to the roads, we will solve that too, this is a big challenge for us, God willing, we will be the leaders. Creating a vision.
He said that when there is mourning in a house, enemies also sit together, Imran Khan is constantly attacking institutions and the army, have people forgotten his rule of 4 years? They loosened the nuts and bolts of the economy.
Ahsan Iqbal said that we are connecting the economy that was destroyed by Imran Khan, the reason for the inflation at this time is the inflation in the whole world and the agreement with the IMF.
He further said that we had to drink this bitter sip because Imran Khan left after making promises, Imran Khan surrendered to the IMF, where was the real freedom at that time.
The federal minister also said that as soon as the economy recovers, the prices will also stabilize, our biggest priority is to control the flood situation at this time, there are also infrastructure and university projects in Karachi and Hyderabad.