Geo tv news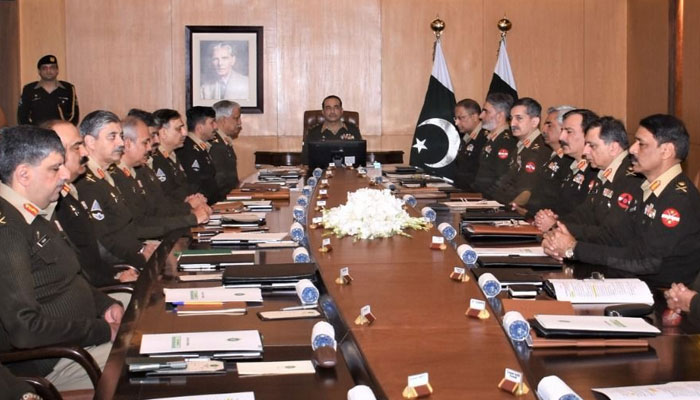 Rawalpindi: Army Chief General Asim Munir says immoral and cowardly actions cannot shake the nation's resolve.
According to the Pakistan Army Public Relations Department (ISPR), the Commanders' Conference was held under the chairmanship of Army Chief General Asim Munir where participants were briefed on current and emerging threats.
According to ISPR, the corps commanders paid tribute to the martyrs of Peshawar Police Lines and said that those responsible for the police lines blast will be brought to justice.
Addressing Commander Korak, the army chief said immoral and cowardly acts cannot shake the resolve of the nation, cowardly acts strengthen the resolve to win the war against terrorism, cowardly acts have zero tolerance for any terrorist organization. Strengthens commitment to
The Army chief ordered continued focus on counter-terrorism operations and said counter-terrorism operations should continue until sustainable peace is achieved.
According to ISPR, a briefing was given at the conference on operations to break the nexus of terrorists and their support mechanism, a briefing was also given on the situation in occupied Kashmir.
ISPR says the forum took note of Indian intentions to change the demography of Occupied Kashmir, the forum also took note of the violation of human rights in Occupied Kashmir and reiterated its support for the freedom struggle of Kashmiris.